Pastor Kyner – bio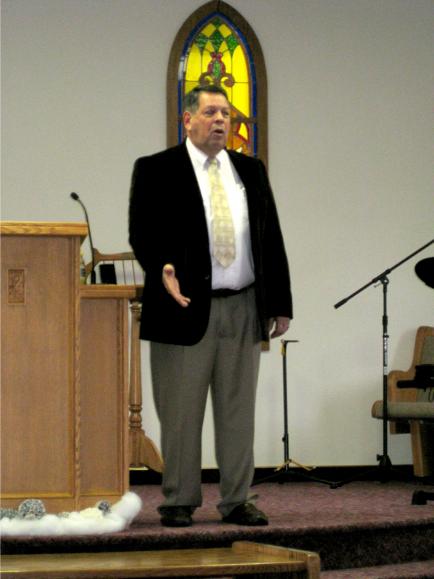 An Introduction To Our Pastor:
Pastor Stephen J. Kyner and his family lived and served in the Southeastern District of the Church of God (Seventh Day) for almost thirty years.
Pastor Steve (as he is called) and his son first came to North Dakota as speaker at a Family Camp in Lehr in July of 2004. Upon returning to Florida three major hurricanes crossed paths about 30 miles south of his house. One of the Alfred members called Pastor Kyner to see if he was ready to "get out of Dodge" and think about serving the Alfred church which had been without a pastor for some time. At the time it seemed the farthest thing from his mind (the bi-vocational Pastor Steve was also a roofer).
"I hadn't thought much more about North Dakota until we received information that a Harvest of Thanks annual meeting was announced for fall of 2005 and Vangie, my wife, and I wanted to go," Recalls Pastor Kyner. He continues, "We did not make it that year but my wife said, 'I don't know why, but I think we may be in North Dakota next year for good.'" By December an initial visit was made. And Pastor Kyner arrived in Jamestown and was unpacking August 4th of 2006.
Pastor Kyner is originally from Pennsylvania and with his father in the Army, Stephen traveled and has lived in seven states including Alaska, California, and Alabama. At age 21 he received a call to the ministry and traveled to Stanberry, Missouri, to study at the Midwest Bible College. He continued his education in Alabama, receiving a BA in Psychology and Sociology from Jacksonville State University in Jacksonville, Alabama. His service in the Southeast was mostly bi-vocational to help smaller churches that could not afford a pastor. Otherwise, he worked in secular work including construction and roofing.
Now living in North Dakota, Pastor Kyner serves the Alfred Church with people attending from Jamestown, Fredonia, Lehr, Jud, Gackle, Edgeley, and from as far away as Wing ND. On the second Saturday of each month, Pastor Kyner travels to Devils Lake, ND to conduct services for a small group there. Local members speak in his absence from the Alfred Church.
Directions and Contact Information for the Alfred Church:

Alfred, ND is located two miles south of highway 46, 15 miles east of Gackle. From Jamestown, go south on highway 281 for 18 miles, then west on highway 46 for 15 miles to the Alfred sign. Go South two miles and turn right at the grain elevators and the Church is on the left. Please feel free to contact Pastor Stephen J. Kyner at (701) 252-1677 for more information regarding your interest in the Alfred Church.